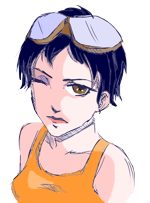 The Self-Destruction of Mrs Blue
Hi! I'm a chainsaw-wielding, space charming, trained sniper, who married a lightning deity, and has to save the world from some corner of the universe that wants to eat us.

My world is a lot like yours except we reached peak oil before you did. And we're yet to invent democracy. This isn't so much of a story as a personal journey.

I've divided this story into the major story arcs (five acts). Feel free to jump in at the start of any Act... they're almost independent.
Note: You need not have read books 1 through 4 to read and understand #5
You are here:  

Kwan #5: Self-Destruction of Mrs. Blue